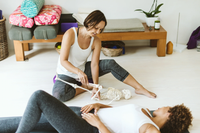 Private 1-1
I offer customized courses for those who want to dive deeper into Yoga therapy and want one to one sessions. It includes an evaluation in person or online lessons. Schedule your consultation today!
Book a session
Guided Meditation
I teach iRest yoga nidra meditation which is a 1-1 session where you can explore in more depth about yourself and the practice
Book a Session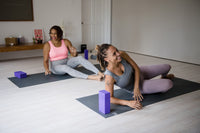 Bespoke Group Class
Bespoke group classes, with friends, family or colleagues are always plenty of fun. Plan a class for a girls day out, birthday or just a get together.
We keep numbers to a minimum, only 4-5 per class and all COVID-19 protocols are observed.
Book A Session
MEET NATASHA
I'm Natasha Whelan, a human being in love with life and dedicated to serving others in a way that improves how they function in the world. There is nothing more rewarding than seeing a client move with more ease and less pain through Yoga Therapy or seeing one empowered to take control of their own life through breath, stillness, and meditation practices.
I have over 16 years of experience as a Yoga and Movement Therapist as well as being a Nutrition and Health Coach. I have made it my life's mission to inspire others to embrace the same principles that I live by daily.
Schedule a Free Consultation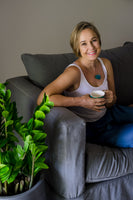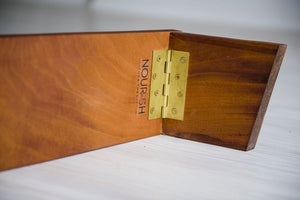 Testimonials
Yoga Therapy has brought a lot of good change into my life. After years and years of living with intense back pain and coming to accept, well, "this is how it is," I started seeing Natasha for private sessions.

Natasha has introduced a whole new world of self love, self care and awareness to me. She has a very simple and discreet yet impactful way of bringing awareness to yourself and your body.

Olivia
After getting very sick with encephalitis in 2016 which caused a swelling to my brain. I was left with many long term health issues .
I struggled the first year on my own then I was very lucky to find Natasha. Her yoga therapy has helped me so much to reclaiming my life.

From my balance to learning breathing techniques which can help me prevent a mild seizure. To helping me with my digestive issues brought on by my medicine

After a session with Natasha I leave with a feeling of wellness that I couldn't of dreamt of when I was first recovering from my illness.

Her passion for yoga and the calm and fun teaching methods have truly improved my life and recovery.

Put simply . I would be lost without her

Rachel
Yoga Therapy with Natasha has helped me become more aware of the tension I hold in my body and how to let it go. I realised during our sessions that I wasn't breathing to my full potential, which came as a surprise to me, as I always considered myself a deep breather.


I'm thankful for the safe space she provides for me to be more comfortable in my body.

Stephen
I didn't know exactly what to expect when I first started yoga therapy, but I was immediately at ease with Natasha. She's intuitive, listens well and her non-judgmental presence creates a safe and informal space, getting you out of your head and into your body. My energy reserves feel replenished and I'm breathing more fully and deeply.
I highly recommend Natasha, her supportive style, patience, encouragement and ability to demonstrate the mind-body connection makes her a truly gifted teacher – a real gem!



Christine